For those that are already customers or readers of our posts, you are likely aware of the passion we have for the "lesser cuts." From shanks, hocks and offal to lesser-used roasts and steaks, when you're talking Whole Animal you have to talk about the "good, the bad and the ugly." Let there be no confusion... all parts are good, even the odd bits, but some take more preparation than others. There are two steaks we typically get back that seem to consistently give people a bit of trouble: Sizzler Steaks and Sirloin Steaks.
Sirloin Steak
The sirloin steak is a bit difficult to identify if you're not talking specifically to your butcher. For instance, what we have cut as sirloin steaks are also known as culotte steaks, which are highly coveted by butchers and those "in the know", however sirloin steaks may also come off of the top sirloin or the bottom sirloin. Depending on schools of thought and training, it could be any one of those areas on a cow, and the textures are very different. For the purposes of this post, let us talk about what you'd get from us, which is the Culotte Sirloin Steak.
The culotte sirloin steak comes from the sirloin cap, which, as described by the US Beef Council is as follows:
" Boneless steak made by slicing the Coulotte (Sirloin Cap) at a right angle to the grain or direction of the muscle fibers. Because this Sirloin Cap is removed during the fabrication of the Top Butt Boneless, the opportunity to cut across the grain is gained, maximizing tenderness."
This area of the steer get lots of movement and thus has bold, irony flavor. By that I don't mean irony like liver, I mean rich and minerally like you'd like your steak to be (presumably). As such, you want to cook it quick, hot and rare... mid-rare at most. For our dinner last night, we cooked on a screaming-hot grill, for about 2-3 minutes per side, moving frequently, to ensure that all of the meat is crusted and cooked evenly. The old wives tale about throwing a steak on the grill and leaving it to sit, only to flip once, should be reserved for burgers. Steaks, however, do best moved around to maximize the char and crust on the outside. Now that I think of it, I may have to do a post just on cooking methods. Stay tuned for that. We cooked until about 130 degrees, counting on a 3 - 5 degree carryover when we removed to rest. This was dressed with simple salt and pepper, about 30 - 45 minutes prior to cooking, allowing a nice penetration of salt and drying the surface of the meat to achieve a better crust. We removed our steaks from the refrigerator approximately 20 minutes prior to cooking to allow them to come to room temperature, again, helping to ensure even cooking. After resting for about 10 minutes, the steak is cut across the grain, shortening the muscle fibers and increasing tenderness, resulting in a fantastic and economical steak.
Sizzler Steak
Now, the sizzler steak. This is a steak that we probably hear the most feedback on by people stumped on how to cook it and still remain tender. I decided to do some testing with cooking methods and now feel I have a good handle on how to get there and what people are describing as tough.
First, it's important to consider where this steak comes from. This holds true for all steaks, as knowing where they are from will tell you how much activity it gets (flavor increase, but toughness increase) as well as what you can expect from tendons and sinew. The sizzler steak comes from the bottom sirloin, right at the hip. If you remember from earlier, this is what's tricky about large muscle groups like the "sirloin", as it with one mislabel from your meat counter can easily change how you cook it, cut it and prepare it. Referring the chart above, you can see it comes from the bottom sirloin, below the top sirloin (duh) and is much further down on the animal's hindquarter. Its proximity to the hip means it's getting worked quite a bit, but will also have a big tendon running through it. This, in my opinion after testing, is likely where the issue with "toughness" comes in. The meat alongside this tendon is incredibly rich and flavorful, but no matter how you cook it, that tendon is always going to be tough. This is why when you look up cooking methods, they always suggest some sort of acid in the marinade, to help break down the meat and tenderize it. Problem is, it won't tenderize the tendon and you're still going to likely not enjoy the cut itself. We tried this method to test the most common suggested methods and didn't particularly enjoy it. It made the texture of the meat quite mealy and the vinegar flavor seemed overpowering. So, what to do?
Our suggestion: remove the tendon before or after cooking. We did the latter, cooking much the same way as described above for the sirloin, and then slicing across the grain once again. This steak is great when cooked and presented properly, but it immediately became evident that the tendon is what's throwing people off. Simply remove it and you'll be good to go.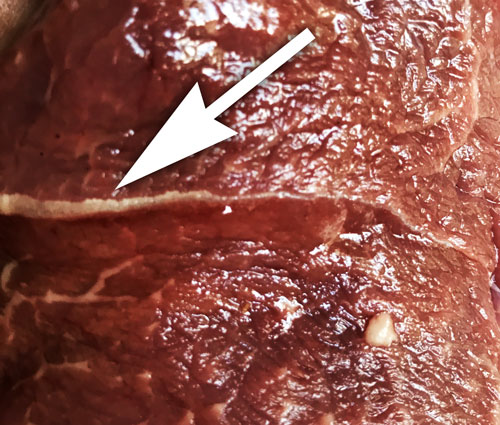 These economical steaks are great options for the summer time grill and shouldn't be overlooked. They also shouldn't be relegated to overcooked fajitas, but rather deserve their place at the table just like the rest of the steak family. Next time you are out at the farm, consider picking one up and trying these different techniques and I assure you it'll change your mind. [Editor's note... we might be sold out now, but we still have other good options!]