Viewing entries tagged
BBQ
For those that are already customers or readers of our posts, you are likely aware of the passion we have for the "lesser cuts." From shanks, hocks and offal to lesser-used roasts and steaks, when you're talking Whole Animal you have to talk about the "good, the bad and the ugly." Let there be no confusion... all parts are good, even the odd bits, but some take more preparation than others. There are two steaks we typically get back that seem to consistently give people a bit of trouble: Sizzler Steaks and Sirloin Steaks.
Sirloin Steak
The sirloin steak is a bit difficult to identify if you're not talking specifically to your butcher. For instance, what we have cut as sirloin steaks are also known as culotte steaks, which are highly coveted by butchers and those "in the know", however sirloin steaks may also come off of the top sirloin or the bottom sirloin. Depending on schools of thought and training, it could be any one of those areas on a cow, and the textures are very different. For the purposes of this post, let us talk about what you'd get from us, which is the Culotte Sirloin Steak.
The culotte sirloin steak comes from the sirloin cap, which, as described by the US Beef Council is as follows:
" Boneless steak made by slicing the Coulotte (Sirloin Cap) at a right angle to the grain or direction of the muscle fibers. Because this Sirloin Cap is removed during the fabrication of the Top Butt Boneless, the opportunity to cut across the grain is gained, maximizing tenderness."
This area of the steer get lots of movement and thus has bold, irony flavor. By that I don't mean irony like liver, I mean rich and minerally like you'd like your steak to be (presumably). As such, you want to cook it quick, hot and rare... mid-rare at most. For our dinner last night, we cooked on a screaming-hot grill, for about 2-3 minutes per side, moving frequently, to ensure that all of the meat is crusted and cooked evenly. The old wives tale about throwing a steak on the grill and leaving it to sit, only to flip once, should be reserved for burgers. Steaks, however, do best moved around to maximize the char and crust on the outside. Now that I think of it, I may have to do a post just on cooking methods. Stay tuned for that. We cooked until about 130 degrees, counting on a 3 - 5 degree carryover when we removed to rest. This was dressed with simple salt and pepper, about 30 - 45 minutes prior to cooking, allowing a nice penetration of salt and drying the surface of the meat to achieve a better crust. We removed our steaks from the refrigerator approximately 20 minutes prior to cooking to allow them to come to room temperature, again, helping to ensure even cooking. After resting for about 10 minutes, the steak is cut across the grain, shortening the muscle fibers and increasing tenderness, resulting in a fantastic and economical steak.
Sizzler Steak
Now, the sizzler steak. This is a steak that we probably hear the most feedback on by people stumped on how to cook it and still remain tender. I decided to do some testing with cooking methods and now feel I have a good handle on how to get there and what people are describing as tough.
First, it's important to consider where this steak comes from. This holds true for all steaks, as knowing where they are from will tell you how much activity it gets (flavor increase, but toughness increase) as well as what you can expect from tendons and sinew. The sizzler steak comes from the bottom sirloin, right at the hip. If you remember from earlier, this is what's tricky about large muscle groups like the "sirloin", as it with one mislabel from your meat counter can easily change how you cook it, cut it and prepare it. Referring the chart above, you can see it comes from the bottom sirloin, below the top sirloin (duh) and is much further down on the animal's hindquarter. Its proximity to the hip means it's getting worked quite a bit, but will also have a big tendon running through it. This, in my opinion after testing, is likely where the issue with "toughness" comes in. The meat alongside this tendon is incredibly rich and flavorful, but no matter how you cook it, that tendon is always going to be tough. This is why when you look up cooking methods, they always suggest some sort of acid in the marinade, to help break down the meat and tenderize it. Problem is, it won't tenderize the tendon and you're still going to likely not enjoy the cut itself. We tried this method to test the most common suggested methods and didn't particularly enjoy it. It made the texture of the meat quite mealy and the vinegar flavor seemed overpowering. So, what to do?
Our suggestion: remove the tendon before or after cooking. We did the latter, cooking much the same way as described above for the sirloin, and then slicing across the grain once again. This steak is great when cooked and presented properly, but it immediately became evident that the tendon is what's throwing people off. Simply remove it and you'll be good to go.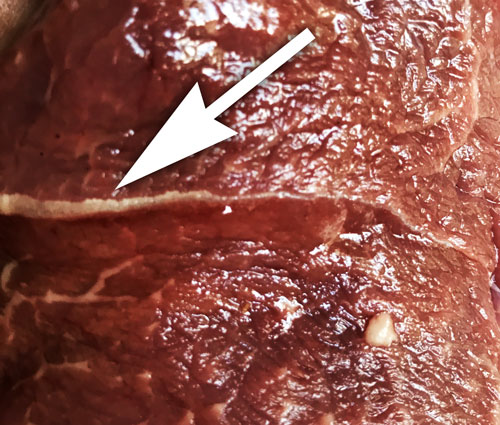 These economical steaks are great options for the summer time grill and shouldn't be overlooked. They also shouldn't be relegated to overcooked fajitas, but rather deserve their place at the table just like the rest of the steak family. Next time you are out at the farm, consider picking one up and trying these different techniques and I assure you it'll change your mind. [Editor's note... we might be sold out now, but we still have other good options!]
FINALLY! After a dreary spring and mild winter where mud was more prevalent that the shine of the sun. No need to dwell though, as summer is here now and it's time to fill the air with the scents of BBQ and grilled meat [and some veggies too— life is all about balance]. For our CSA members, June is the month of the grill and you'll have a great variety to play with, but we wanted to make sure you had a few ways to step up your grilling game and try some new things.
Burgers
Burgers don't just have to be patties with cheese on top [not that there's anything wrong with that!]. They can be great vehicles of flavor when different methods of cooking and seasoning are involved. Here are three tips to get you started, but feel free to add more to the comments section.
Fish Sauce
Are you crazy? Generally, the answer is yes, but in this particular case, no. Fish sauce is an umami bomb and when combined with smoke and char, it's pretty much the perfect bite. You can use any fish sauce, really, but if you're more adventurous, head to your nearest Asian market and look for some of the more obscure ones with the entire small fish packed in. You won't be disappointed. Simply drizzle some atop the burger and sit back and enjoy the umami explosion.
Clinching
Clinching is a method of cooking that trades the ease of a grill for the flavor of the coals. If you ever look at the traditional Argentinian-style cooking, this is a popular method of cooking all kinds of meat. What you want to do is create a nice hot bed of coals and then cook the meat directly on them. While I could go into detail explaining, this video by Adam Perry Lang describes it better than I can: http://www.weightwatchers.com/util/art/index_art.aspx?tabnum=1&art_id=214431&sc=3022 [ editors note: We are not advocates, nor haters, of Weight Watchers. We're simply using their video explain our suggestions.]
Low Temp
Low temp cooking is a new(ish) method that involves cooking meat or vegetables in water for a period of time that ensures even cooking throughout, without the risk of over- or under-done. This method allows you to take the burger and sear it hard in a hot pan or hot grill, or even with the above clinching method, and still avoid undercooking the meat. This will give you a beautiful blend of even doneness with a hard sear on the outside. Amazing flavor and texture is the result and more information on the method can be found here: ( http://anovaculinary.com/what-is-sous-vide/ ).
Brats and Other Sausages
Low Heat
One of the common "issues" with cooking brats and sausages on the grill is that they break and/or split. More often than not, this is because they are placed under an extremely high heat, and the high temps cause the casing to contract to quickly and rip open. Some people are completely ok with the ripping, and if you're from the East Coast, you're well aware of "rippers" or deep-fried cased meats that "rip" open and are crispy and charred and delicious. For those that are not into the ripped casing, what you want to do is cook your meats on a low, indirect heat. A medium heat is likely fine as well, but you'll need to play around with your threshold based on the cased products you have. What you're looking for is a fully cooked-through brat that hasn't ripped. The cook time obviously varies by temperature of cooking environment, but indirect heat will give you a nice crisp, snappy casing and sausage.
Cook and Split
Growing up on the East Coast, we cooked our sausages a bit different than is typical here in Michigan, and quite frankly, most of the country. What we ended up doing was cooking our sausages half way through and then splitting them, or butterflying them, down the middle. From here you had a partially cooked and bound sausage that had these "rough" edges that were primed to take on a beautiful crispy char. So, here's how we do it. We cook the sausage over high heat for about 2 - 3 minutes per side. This allows the meat to set and bind up into something you can split without it becoming a Sloppy Joe-style mess. Once you've cooked both sides, remove from heat and slice down the middle, taking care not to slice through the other side of the casing, so that it butterflies out. At this point, flip and cook through over high heat on the exposed, split sides. This will yield a crispy and charred, albeit well done, brat that will be reminiscent of the East Coast boardwalk sausages.
Low Temp and Clinching
Low temp again. Yes, as you might guess, it's the same method as mentioned above and the benefits are exactly the same. By low temp cooking the sausages, you're cooking through, evenly, the cased meat, ensuring that the end product is an even doneness. By starting the cooking process this way, it opens up a couple of different options for finishing the cooking, one of which is any high heat method. Because you've cooked, and set, the sausages during low temp cooking, you can now sear and char over a very high heat without risk of the casing breaking into an unrecoverable mess. My preferred method of post-low temp cooking is clinching. As mentioned above, you'll be cooking directly on the cherry coals and utilizing the high heat to sear in flavor via char and smoke. With sausages, this is no different. Over hot, cherry, coals, place the low temp cooked sausage onto the coals and sear, hard, for one to one and half minutes per side. Remove from the coals, let rest and enjoy the most amazing sausage you've ever had.
All in all, cooking on the grill isn't rocket science. It is the most primitive and simplistic, of cooking methods. Wood/Coals, fire and food. It's been around since the dawn of time and our job as cooks is to leverage its inherent possibilities. Smoke, char and ash are all the elements that come to the table when cooking over fire. Hopefully we've given you some tips to take the ordinary into the extraordinary. Impress your friends with your new techniques and change the perception of what a "simple burger" or "Brat on a roll" can be.